Real Actual Magic
Film, VFX, and Mary Poppins
Magic
Oxford:

n. "a special quality or ability that somebody/something has, that seems too wonderful to be real"
Mary Poppins (1964)
"In turn of the century London, a magical nanny employs music and adventure to help two neglected children become closer to their father." (IMDb)
Motivation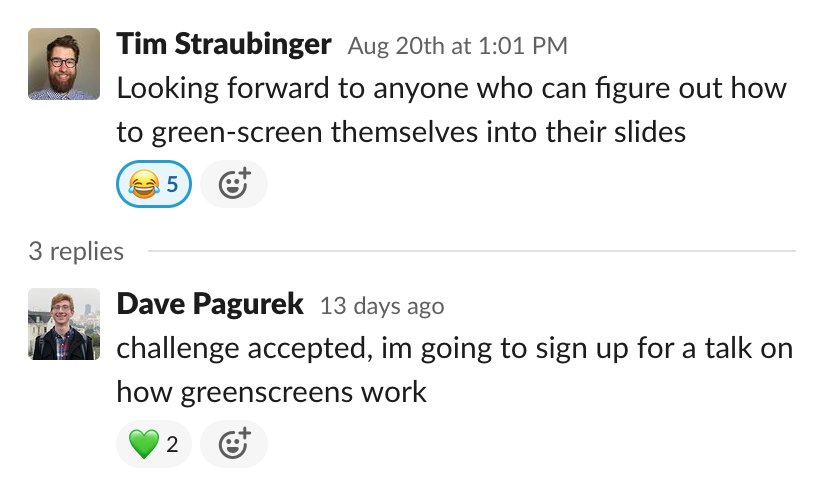 This is analog tech
Remember: Mary Poppins was filmed in the 60s
How do you do VFX?
What even is film, anyway?
It's Chemicals™
B/W: intensity of light hitting film
Parts that were exposed more end up darker (a negative)
Negative is used to expose a second copy, making a positive
What is visible light?
Electromagnetic radiation
"Visible" is a specific range of wavelengths
Rods are mostly for low-light sensing; cones are for colour imaging
Different cone types respond to different frequencies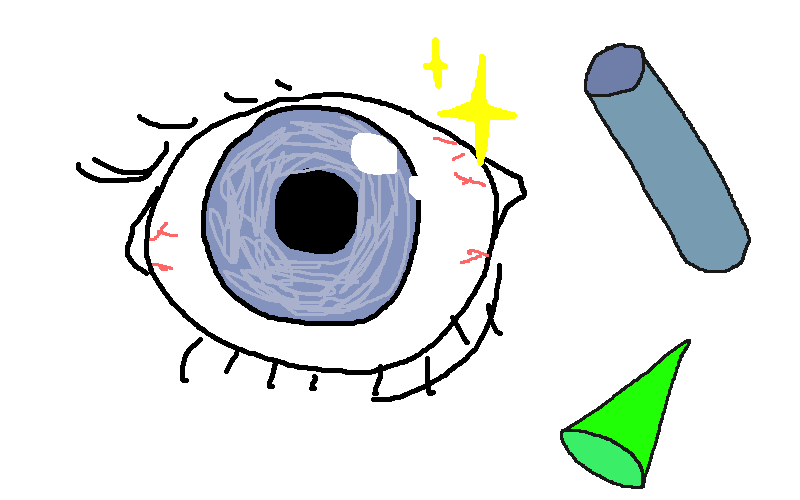 So colour isn't real, actually
We perceive a continuous spectrum of colour, but we don't have perfect sensors
Hues perceived based on the inputs from these three types of cones

We don't have a special yellow sensor; we perceive yellow when green/red sensors are both active
"Fuchsia" doesn't have a frequency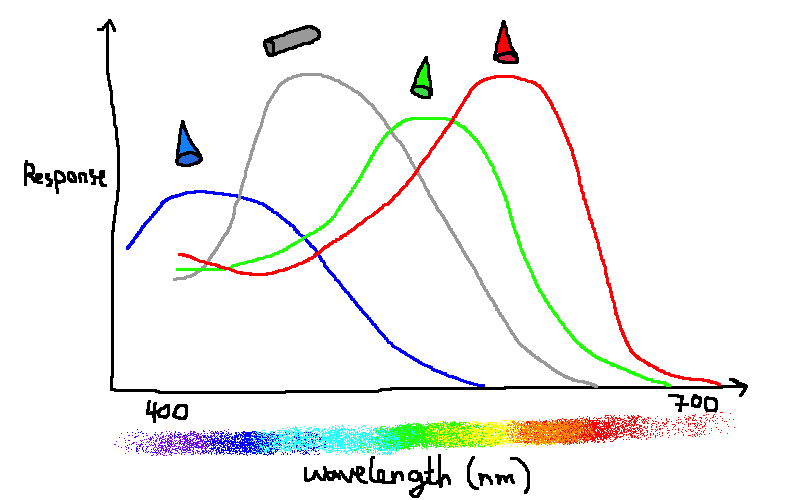 So what does film see?
Depends on the film
Black-and-white film originally was most sensitive to blue/green
So, you want colour film?
Fake colour: Tinted B/W
e.g. most of Phantom of the Opera (1925)
B/W film dyed a different hue
Tinting: White is not preserved; black is
Early colour: Technicolor Process 1
Only one film: The Gulf Between (1917)
Two frames of film exposed at once: one with a green filter, one red
The positives of each are tinted to the colours the filters let through
Both frames are projected at once, combining colours additively

Start from black → combine to get white
Early colour: Technicolor Process 1
Doesn't accurately reproduce blue/green components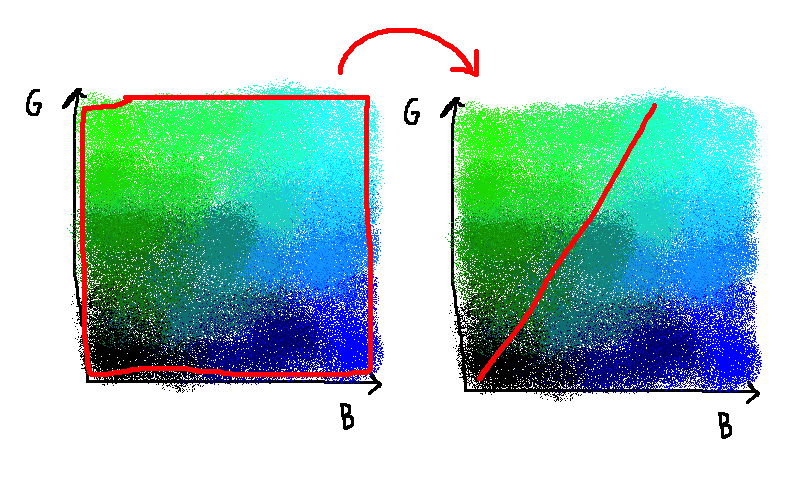 Early colour: Technicolor Process 2 and 3
Toning: White is preserved, black is not preserved
The positives of each channel are toned to opposites of filters
Toned positives are combined subtractively onto a single frame of film

Start with white → subtract to get black

It's just one frame! We can hire any random teenager to project this!
Early colour: Technicolor Process 2 and 3
e.g. 17 minutes in the middle of Phantom
Modern colour: Three-Strip Technicolor (Process 4)
To capture a much closer* colour representation, three frames of film exposed at once: red, green, blue

*still fine-tuned for good skin tones on white actors mostly

Red filtered light printed in cyan, green in magenta, blue in yellow
Used in Wizard of Oz (1939) through to The Godfather Part II (1974)
So, you want to put a character on a different background?
Option 1: Rear Projection
e.g. 2001: A Space Odyssey (1968)
Place a screen behind actors, light it from behind with the background you want
Transparent stuff works! Reflections work!
Option 1: Rear Projection
Modern updates: LED stage
r e a l t i m e r e n d e r i n g
Option 2: In-Camera Double Exposure
Block out the light from one area while filming your foreground
Block out the opposite area and film again over the same frames to fill the background
This is masking, a key concept
Used as early as A Trip to the Moon (1902)
Option 3: Printed Double Exposure
Film foreground/background separately
Combine them using masks using a special compositing printer
Key benefit: You can make your mask film however you want!
But how?
Option 3a: Rotoscoping
Get someone to trace over the outlines of shapes manually
This takes a lot of work
We still do this! (But mostly to clean up other techniques)
Option 3b: Luma Matte
Idea: adjust the exposure of your film until bright parts become pure white and dark parts pure black
Basically: thresholding
Not very good at separating foreground/background usually
Option 3c: Single-Channel Luma Matte
Idea: use just one colour channel for the luma matte
Problem: white things appear on all channels
We really want things that appear in one channel but no others to disappear
Option 3d: Chroma Matte
Keep areas where the other channels are stronger than the matte channel
Subtract matte channel from other channels

e.g. for a greenscreen: a = r + b - g > 0
+ implies mixing light; - implies mixing dye

Can basically only key out green or blue; too much red in skin tones
Getting a clear edge or transparency is hard (have to remove green bleeding from edges after)
Wait, no transparency? No fine edges?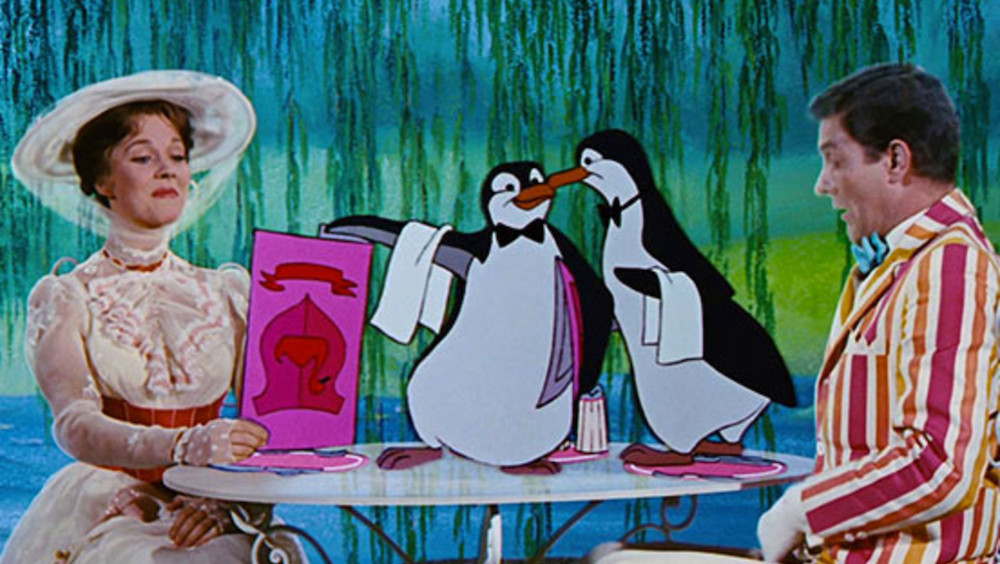 RGB channels are not good enough
RGB channels capture too many frequencies
Objects are visible to some extent in every channel
What if...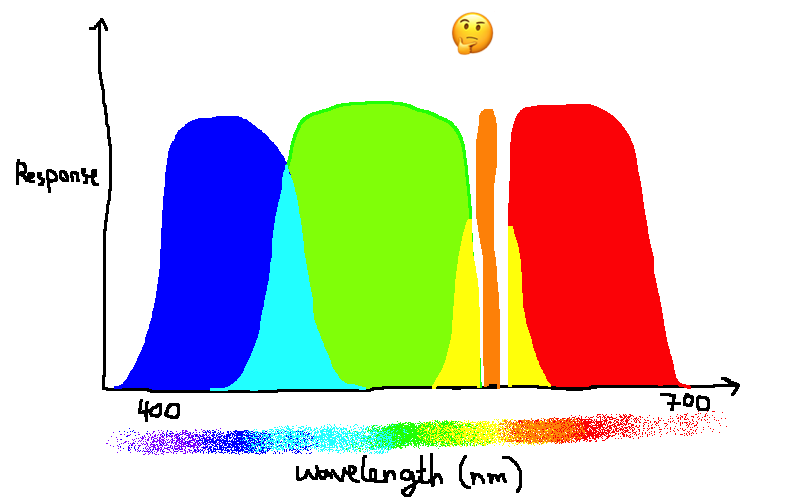 How would we do that?
Pack a fourth reel of film in the camera
Split just that narrow frequency band onto it
Light your backdrop with just that band
Use this channel directly as a matte
The Sodium Vapour Process: Luma Matte on Y Channel
Sodium vapour lights emit at a narrow yellow band

That's why street lamps look so yellow

Light the background with those
This won Mary Poppins a VFX oscar
How would we do that?
✅ Pack a fourth reel of film in the camera
🤔 Split just that narrow frequency band onto it
✅ Light your backdrop with just that band
✅ Use this channel directly as a matte

Without (2), you get the same problem of the colour bleeding into other channels
Missing link: the beam splitter
Uses a prism with thin-film interference to be a highpass or lowpass filter for a target frequency ("dichroic" beam splitting)
Combine a highpass and a lowpass to create a bandpass splitter
Hard part: precision manufacturing to get the frequencies Just Right
And here's the magic
They didn't figure out how to manufacture this reliably
They managed to manufacture exactly one such prism
Every film using the Sodium Vapour Process was made using the same camera
Every Sodium Vapour Process film after Mary Poppins
The Birds (1963)
Bedknobs and Broomsticks (1971)
Island at the Top of the World (1974)
The Apple Dumpling Gang (1975)
Escape to Witch Mountain (1975)
Gus (1976)
Pete's Dragon (1977)
...
Dick Tracy (1990)
Other lost technologies
Roman concrete
Damascus steel
Saturn V rocket
Why haven't we re-invented this?
Good dichroic filters are expensive
We got better at analog greeenscreens (more careful chemical processes)
We can edit digitally now

Accuracy of chemical processes no longer a factor
Manual cleanup is suddenly easier
We can use ✨machine learning✨
tl;dr
We can get good results cheaply without Sodium Vapour
But it's not as clean a process